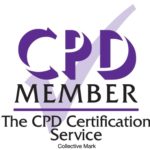 MCRMA's online CPD programme is open to anyone seeking to develop their knowledge and skills within the metal building envelope sector. Each module also offers members of professional institutions an opportunity to earn credit towards their annual CPD requirement.
MCRMA provides informative self-study training, delivering good learning value with an online assessment to check knowledge. The course material is studied offline with an online assessment component to verify knowledge. It is a training with learning and CPD value accredited by the CPD Certification Service.
To earn CPD credits, first select your chosen document below and study carefully. When you are ready to take the CPD, click the link opposite to complete your details and answer the questions. You will receive your results instantly, and if all the questions are correctly answered, you will be able to download your CPD certificate straight away.
GD10 WORKING AT HEIGHT: A FALL PREVENTION AND SAFETY CHECKLIST
Roofing technologies, material guarantees and the growth in the use of renewable energy technology systems for example, photovoltaic panels (PVs) make it important to understand specific requirements for access, inspection and maintenance at roof level.
This CPD introduces the key issues that need to be taken into account to ensure that these requirements are fully understood and that safe work at height must be considered from the outset on any project.
(CPD value 60 minutes or equivalent)
GD15 GUIDANCE FOR WIND LOADINGS ON ROOF AND WALL CLADDING
Buildings and their cladding are expected to withstand the worst that the weather can throw at them without risk of failure or loss of function.
This CPD introduces the reader to the key issues that need to be taken into account when calculating wind loadings on both the roof and walls of industrial and commercial buildings. The CPD  explains the factors which can influence the wind loading and the zonal changes around the building envelope.
(CPD value 60 minutes or equivalent)
Heavy snow falls can result in damage to roofs and their supporting structures. Good building design in terms of resistance to snow loading starts with the correct specification of the roof cladding and its supporting structure. The CPD distinguishes between types of snow load, the factors affecting snow loading and snow loading calculations. By following the recommended calculation procedures, building designers can ensure that the roofs of their buildings do not collapse.
All construction professionals need to be aware of the basic principles of snow loading to ensure that they play their part in specifying and delivering a safe building.
(CPD value 60 minutes or equivalent)
GD17 A GUIDE TO SITE INSTALLATION OF INSULATED ROOF PANELS 
The performance of any building envelope is highly dependent on a number of factors; not least of all the correct installation of the roof.
This CPD outlines the key issues that need to be taken into account when installing an insulated roof panel system. Insulated panels include through fixed and secret fixed panels where the fasteners are not visible. It is imperative that the work is carefully planned to ensure that it can be done in a safe manner and in line with good site practice. Method statements and risk assessments need to be prepared.
(CPD value 60 minutes or equivalent)
GD19 EFFECTIVE SEALING OF END LAP DETAILS IN METAL ROOFING CONSTRUCTIONS
This CPD introduces the user to key issues that need to be addressed to ensure the effective sealing of end laps in metal roofing constructions. The CPD covers the following combinations – profiled metal to metal; profiled metal to rooflight; sandwich panel to panel and sandwich panel to factory assembled rooflight.
(CPD value 60 minutes or equivalent)
GD20 SERVICEABILITY STATES AND DEFLECTIONS CRITERIA
In structural engineering, serviceability refers to the conditions under which a building is still considered useful.
This CPD sets out an overview of the issues that need to be addressed in order to meet the performance criteria identified by the building designer. The CPD explains the importance of setting the deflection criteria at the design stage and implementing them at the construction stage to ensure that all elements of the construction perform as expected. The CPD also includes guidance on installation tolerances for purlins and rails supporting profile metal roof sheeting and wall cladding.
(CPD value 60 minutes or equivalent)
The ability of a steel framed building to perform adequately depends on good interaction between the secondary steelwork and the cladding and crucial to this interaction is the correct installation of the purlins and side rails.
The CPD illustrates how deviation from the correct tolerances can affect the performance of not only the cladding system and its fixings but also of associated components such as gutters and flashings.
(CPD value 60 minutes or equivalent)
GD28 MINERAL WOOL INSULATION INSTALLATION: BEST PRACTICE GUIDE
Insulating a building is one of the most cost-effective ways of saving energy and reducing heating and cooling bills. Installation practices at the construction phase must ensure that the insulation of the building fabric meets with design stage calculations, manufacturer's guidance and Building Regulations.
This CPD sets out an overview of the factors that need to be taken into account in the storage, handling and installation of mineral wool insulation in built-up metal roof and wall cladding systems. The CPD examines design factors and also includes guidance on both roof and wall installation and standards of workmanship.
(CPD value 60 minutes or equivalent)
GD29 MANUFACTURING TOLERANCES FOR PROFILED METAL ROOF AND WALL CLADDING
This CPD introduces the user to the key requirements that need to be taken into account when assessing manufacturing tolerances for profiled metal roof and wall cladding.
(CPD value 30 minutes or equivalent)
GD31 PRE-LAMINATED MEMBRANE AND FACTORY ASSEMBLED INSULATED PRE-LAMINATED MEMBRANE GUTTERS
This CPD provides the user with best practice advice on the specification of pre-laminated and factory assembled insulated pre-laminated membrane gutters associated with metal-based roofing systems for industrial, commercial and warehouse applications.
The CPD defines terminology used and provides advice about structural design, design capacity and thermal performance. It deals with the thermal welding of the polymeric membrane and the importance of carrying out sample QA peel tests to set welding parameters during the installation process.
(CPD value 60 minutes or equivalent)