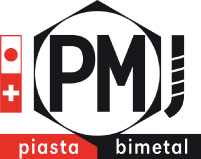 PMJ-tec AG (previously MAGE AG) is a specialised manufacturer of fastening systems for the construction industry. The company was founded in 1975 in Courtaman, Switzerland and from its location in the middle of Europe, the company exports over 95 percent of its annual production to more than 30 countries worldwide. In addition to its headquarters in Switzerland, PMJ-tec has subsidiaries in Germany, the United Kingdom and the Netherlands.
In recent years the company has invested heavily in licensed production of piasta bimetal drillscrews in close co-operation with its Japanese license-partners, QP Fastening Works Ltd., whose founder Katsumi SHINJO originally patented his design for welded bimetal drillscrews in 1989.
PMJ's UK subsidiary was founded 12 years ago and its nylon-moulding and powder-painting manufacturing facilities allows it to provide customers with a high customer service level for colour-headed fasteners which are produced 'just-in-time' for a wide variety of modern building envelope applications including roofing and cladding, rainscreen cladding, curtain walling and flat roofing.
PMJ-tec Limited
Unit 7, Willow Court
Bourton Industrial Park
Bourton on the Water
Cheltenham
Gloucestershire
GL54 2HQ
Tel: +44 1451 822777
Fax: +44 1451 822771
Component manufacturer