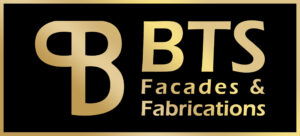 At BTS Facades and Fabrications, our aim is simple: to produce only the highest-quality façade and rainscreen products, suited to a breadth of budgets. With an extensive range of design possibilities, coupled with industry-leading rainscreen and façade systems, we have an enviable reputation within our industry. Our in-house technical and design team, and varied materials, finishes and manufacturing options, allow you to achieve your design vision, whatever your project limitations.
Based in the UK, all of our products are produced at our purpose-built facilities in Newton Aycliffe, County Durham. Our well-established reputation is built on our continuous investment in people and equipment. We offer a complete BIM service, and use the latest 3D design software: allowing you to visualise your design before making your final product decision.
Our employees are at the heart of what we aspire to achieve. We strive to enrich the lives of our staff by being successful and the best at what we do. The safety and well-being of our staff is right at the core of our vision to succeed. Our recent accreditation, ISO 45001 in occupational health and safety is testimony to this.
BTS Facades and Fabrications is a well-established premier supplier of metal CWCT tested rainscreen systems and fabricated metal construction products. Our team has been carefully selected to bring together the best in production experience, commercial acumen and technical support, giving our customers the best possible service.
The BTS team brings together expertise from a wide range of disciplines to offer you the best possible solution to your fabrication requirements in terms of service, speed quality design and technical support.
BTS Facades & Fabrication Ltd
Unit 7, Woodham Road
Aycliffe Business Park
Newton Aycliffe
County Durham
DL5 6HT
Tel: +44 (0)1388 816883
Fax: +44 (0)1388 813037
enquiries@btsfabrications.co.uk
Systems manufacturer