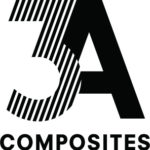 3A Composites GmbH has developed, manufactured and marketed high-quality aluminium composite panels, structural composite material, plastic sheets and lightweight foam boards for architecture, visual communication and transport and industry markets since 1969. The company's famous brands ALUCOBOND®, DIBOND®, ALUCORE®, KAPA® and FOREX®, have established its reputation as a global company.
Following the integration of the Polycasa group in April 2015, 3A Composites GmbH has extended its product portfolio with a wide choice of plastic sheet to strengthen its position as a diverse and leading manufacturer of materials for display, building and industrial applications in Europe.
3A Composites GmbH is part of the international 3A Composites Group. The group belongs to the listed company Schweiter Technologies headquartered in Horgen, Switzerland. 3A Composites, formerly known as Alcan Composites, has been an independent division of Schweiter Technologies since December 1st, 2009 and has approximately 4,400 employees worldwide. In addition to the above mentioned market segments, 3A Composites focuses on wind energy and the marine market with their trademarks AIREX® and BALTEK®.
About ALUCOBOND®
ALUCOBOND® is the world market leader for aluminium composite panels. Since their introduction to the market in 1969, these panels have been used primarily in architecture and for corporate identity programmes, particularly for façades, wall and roof cladding.
The panels are outstanding due to their extreme evenness and rigidity and offer excellent formability with simple fabrication techniques. They are available in a large variety of colours, surfaces and formats as well as in a range of core variations such as a fire-retardant and a non-combustible version.
With their comprehensive know-how, 3A Composites supports architects, designers and investors in designing and realising building envelopes. The brand ALUCOBOND® is produced at the 3A Composites factories in Singen, Germany, Benton in USA, Shanghai in the People's Republic of China and in Pune, India.
3A Composites GmbH
Alusingenplatz 1
78224 Singen
Germany
Tel: + 49 (0) 77 31 – 941 2347
Systems manufacturer